Iconic designer Karl Lagerfeld has passed away, aged 85. Lagerfeld is widely regarded as one of the most important and prolific designers of his generation and had held creative director roles at Fendi (since 1965), his namesake label (since 1974) and Chanel (since 1983) simultaneously.
Lagerfeld was born in Hamburg in 1933 and began his career as Pierre Balmain's assistant in 1955. After this, Lagerfeld also worked with designer Jean Patou, and was freelancing at Chloé by the mid-1960s. He was arguably best known for his time at Chanel, during which he oversaw the house's transition to being one of the world's biggest luxury houses. Rest in peace, Karl.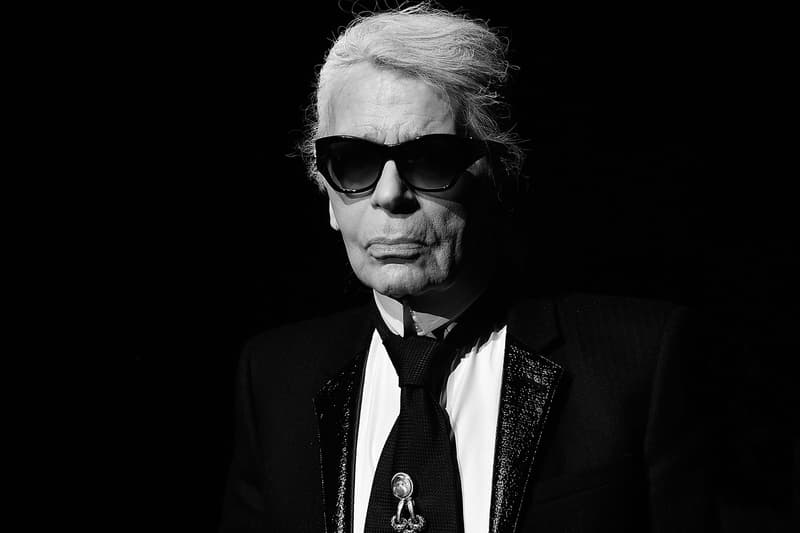 Luxury houses FENDI and CHANEL have made their official statements concerning Lagerfeld's passing. Read below:
From FENDI:
Immensely affected, FENDI mourns the passing of M. Karl Lagerfeld. His influence in the history of FENDI is astonishing. It was 1965 when Paola, Anna, Franca, Carla and AldaFendi welcomed a pioneering young German designer named Karl Lagerfeld, who would soon revolutionize the very essence of fur and lead FENDI through five decades of pure, unwavering innovation,giving life to creations that have stretched the boundaries of fashion. From his first days at FENDI, the longest relationship in the fashion world between a designer and a fashion house,Karl Lagerfeld was a true visionary in everything he conjured up, from the advertising campaigns to his ready-to-wear and Couture Collections. He dared to push boundaries, a modern day genius with a unique sense of aesthetic fearlessness, who influenced a whole generation of designers. Thanks tothe unparalleled creativity of Karl Lagerfeld, in collaboration with Silvia VenturiniFendi, FENDI is today synonymous with timeless quality, strong tradition, relentless experimentation and daring creativity. His passing marks an unimaginable loss at FENDI.

"Working with Karl Lagerfeldat FENDI allowed me to catch a glimpse of the secret of the continuous renewal of the House. I profoundly admire Karl'simmense culture, hisability to rejuvenate at all times, to taste all the arts, to not overlook any style, along witha persistent refusal to turn to his past, to look at his work in a mirror. He was restless and his exigent nature would never leave him. The show was just ending that Karl would always say, "And now number next!" He leaves us anenormousheritage, an inexhaustible source of inspiration to continue. Karl will be immensely missed by myself and all the FENDI people," Serge Brunschwig, FENDI Chairman & CEO.

"I am profoundly saddened as today we have lost a unique man and an unrivalled designer, who has given so much to FENDI and to myself. I was only a child when I first saw Karl. Our relationship was very special, based on a deep and very genuine affection. We had a lot of mutual appreciation and endless respect. Karl Lagerfeld has been my mentor and my point of reference. A blink of an eye was enough to understand each other. For FENDI and myself, the creative genius of Karl has been and will always be our guiding light, moulding the Maison's DNA. I will miss him deeply and always carry with me the memories of our days together," Silvia VenturiniFendi, FENDI Creative Director for Menswear, Accessories and Kidswear.
From CHANEL:
It is with deep sadness that the House of CHANEL announces the passing of Karl Lagerfeld, the Creative Director for the CHANEL Fashion House since 1983.

An extraordinary creative individual, Karl Lagerfeld reinvented the brand's codes created by Gabrielle Chanel: the CHANEL jacket and suit, the little black dress, the precious tweeds, the two-tone shoes, the quilted handbags, the pearls and costume jewelry. Regarding Gabrielle Chanel, he said, "My job is not to do what she did, but what she would have done. The good thing about Chanel is it is an idea you can adapt to many things."

A prolific creative mind with endless imagination, Karl Lagerfeld explored many artistic horizons, including photography and short films. The House of CHANEL benefited from his talent for all the branding campaigns related to Fashion since 1987. Finally, one cannot refer to Karl Lagerfeld without mentioning his innate sense of repartee and self-mockery.

Alain Wertheimer, CEO of CHANEL, said: "Thanks to his creative genius, generosity and exceptional intuition, Karl Lagerfeld was ahead of his time, which widely contributed to the House of CHANEL's success throughout the world. Today, not only have I lost a friend, but we have all lost an extraordinary creative mind to whom I gave carte blanche in the early 1980s to reinvent the brand."

Bruno Pavlovsky, President of Fashion at CHANEL, said: "Fashion show after fashion show, collection after collection, Karl Lagerfeld left his mark on the legend of Gabrielle Chanel and the history of the House of CHANEL. He steadfastly promoted the talent and expertise of CHANEL's ateliers and Métiers d'Art, allowing this exceptional know-how to shine throughout the world. The greatest tribute we can pay today is to continue to follow the path he traced by – to quote Karl – 'continuing to embrace the present and invent the future'."

Virginie Viard, Director of CHANEL's Fashion Creation Studio and Karl Lagerfeld's closest collaborator for more than 30 years, has been entrusted by Alain Wertheimer with the creative work for the collections, so that the legacy of Gabrielle Chanel and Karl Lagerfeld can live on.

The House of CHANEL offers his family, relatives and friends its deepest condolences.